For your security, our customer service agents are not able to update your personal contact information. You may update your email, phone, or physical address through your account access on our website or mobile app.
To update your contact or address information, please login to your accounts using our website or mobile app.
Click Settings on the menu.
Scroll down to Preferences, and click on Address Management.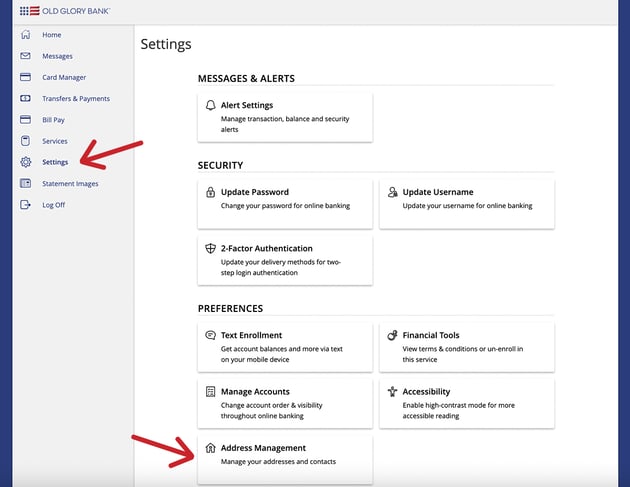 Select a record that you would like to review and edit - Physical Address or Contact Record (phone, email) and click Edit.
If you want to add an alternative mailing address distinct from your Physical Address, click Create a new mailing address.


For your security, our system may request to send you a Secure Access Code to verify your login. Choose which method you would like for this secure access code.
Enter the secure access code sent to your chosen method.

Enter the updates to your information as needed and click Next. Please review carefully to be sure you have typed your information correctly.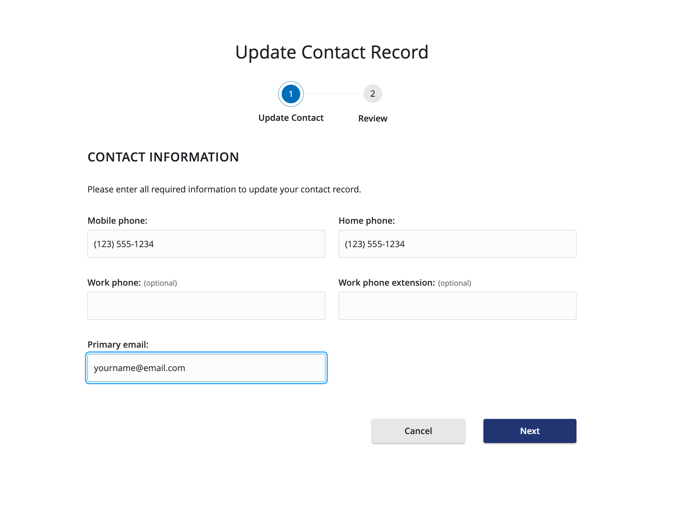 On the next screen, verify that your information has been entered correctly. If everything is correct, click Submit.
If you have established text or email alerts for your balances, transactions, etc., you must also update those alerts if your cell phone number or email address has changed.
If you have established 2-Factor Authentication, you must also update your email and/or phone in the 2-Factor Authentication panel if those have changed. (Go to Settings, then 2-Factor Authentication to update.)
---
Old Glory Bank™ and its family of associated trademarks are the property of Old Glory Intellectual Property Holdings, LLC.
Privacy Notice
Mobile Banking App Privacy Policy
Cookies Disclosure
Accessibility
FAQs
Customer Service
Terms And Conditions