We are grateful for the tens of thousands of Americans who have joined Old Glory Nation.
Follow the steps outlined below, or watch our helpful video for tips on opening your account.
---
Getting Started
From our website, click on the Open An Account button.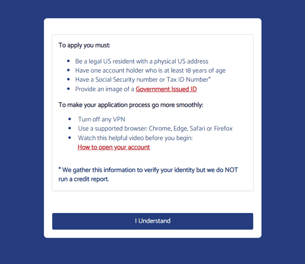 Read the application requirements and recommendations for an smooth application process, have your Government Issued ID ready, and click I Understand.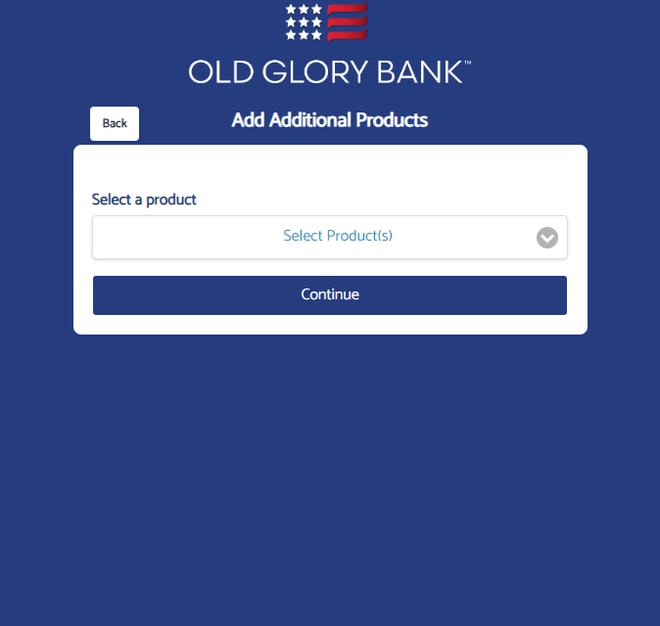 Click the Select Product(s) dropdown to view the available account types. Select either Freedom Spending or Freedom Savings and click Continue. The selected account type will be added to your cart.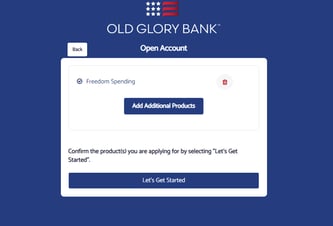 If you would like both, Freedom Spending and Freedom Savings accounts, click the Add Additional Products button, select the remaining account type, and click Continue.
If you wish to remove an account type from your cart, click the trashcan icon next to the unwanted account type.
Once you have chosen your desired accounts, click Let's Get Started.
---
Submitting your Identification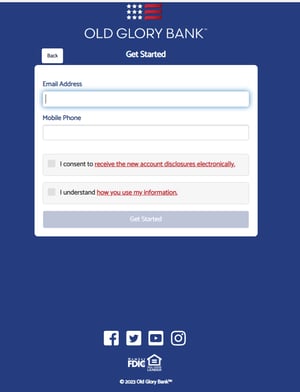 Enter your email address and mobile phone. Check the boxes for receiving your account disclosures and our information usage policy - please click each hyperlink to read more detail. Once you've finished reading, click Get Started.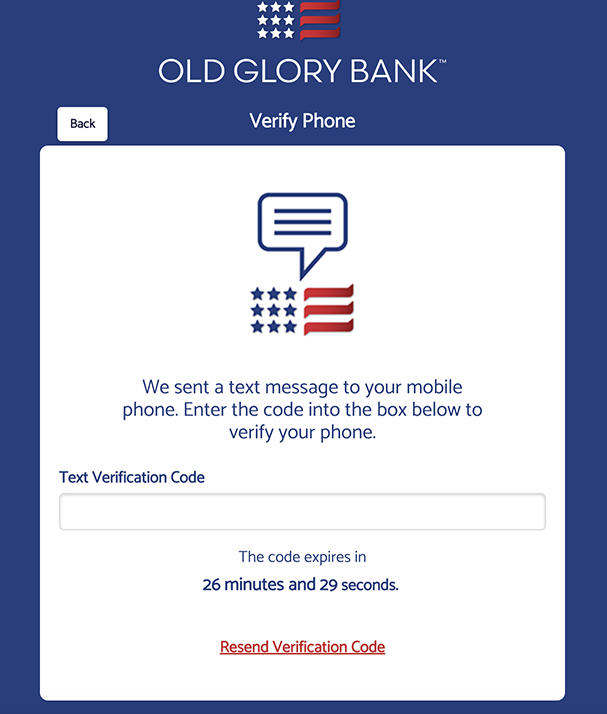 Our system will send you a verification code by text message. Please enter that code to proceed.
(Please be aware that you will also receive an email with a validation code at this time - please save that code to use later in the application process.)
---
Entering Your Personal Details

Next you will enter your personal details, such as Name and Address.
If you wish to add a Joint Account Holder, check the box on this screen. You will need to have a photo of your joint account holder's ID to upload in the next step.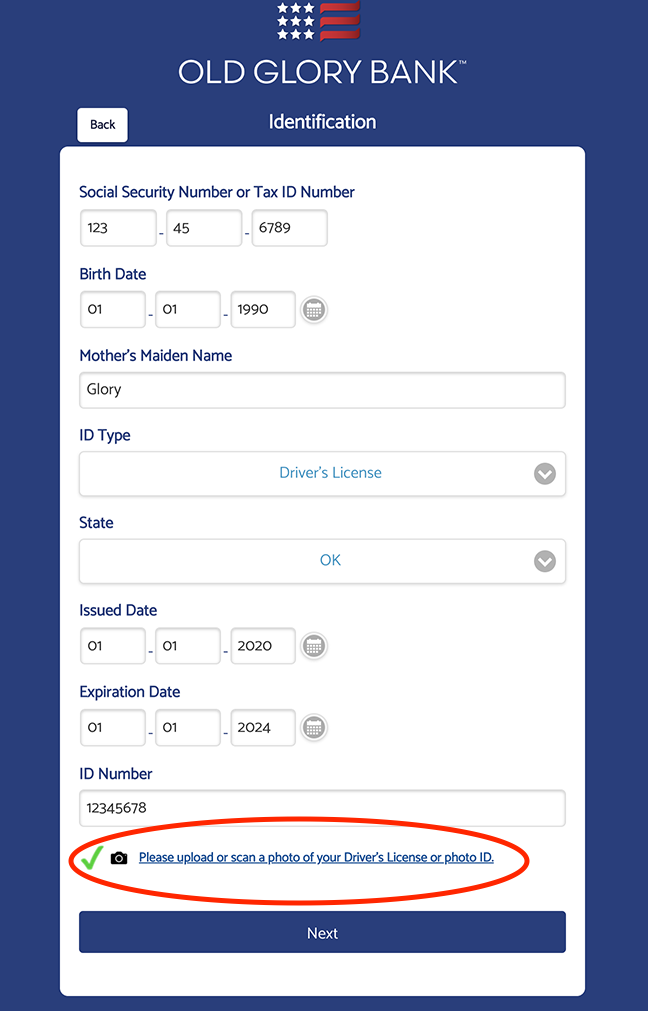 Enter your identification information including the details shown on your ID.
Click the upload link at the bottom of the page to upload the photo of the front of your ID. If using your passport, please submit a picture of the photo identification page. Your ID submission must be clear and legible, with no information covered or obscured.
IMPORTANT: Only a photo file (jpg or png)
may be uploaded. A PDF will not work.
NOTE FOR APPLYING ON A COMPUTER: If you are opening your account on a computer, first take a picture of your license with your phone. Emailing it to yourself is the easiest way to get it onto your computer. After sending the email with the photo attached on your phone, open the email on your computer and save the photo to your desktop. Now you may upload the photo to this identification page on your browser.
Click Next.
Enter your employment details and answer the additional info questions on the next screens.
---
Final Steps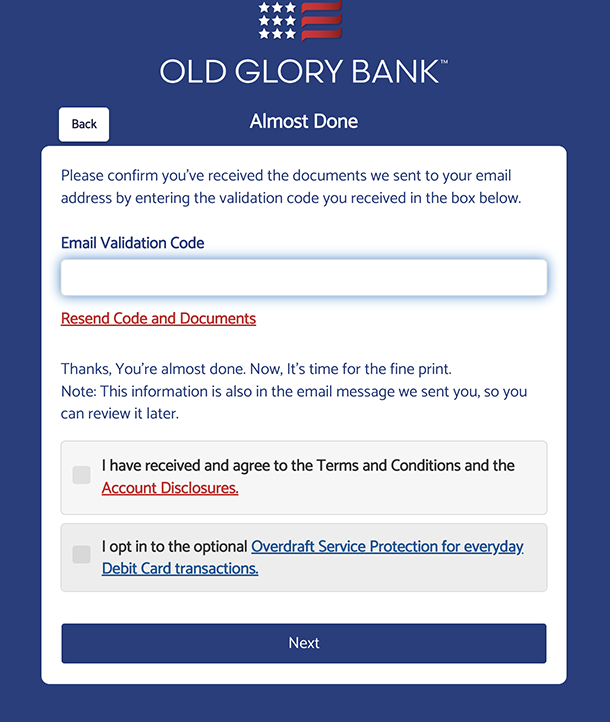 While you've been completing your application, Old Glory Bank has emailed your account disclosure documents along with a validation code. Check your email and enter that validation code on this screen.
Check the box to confirm you have received and read the Account Disclosures.
Check the box if you wish to enroll in our optional Overdraft Protection Service.
Click Next. Old Glory Bank's systems will now verify your identity and run the necessary security.
You will receive one of two screens: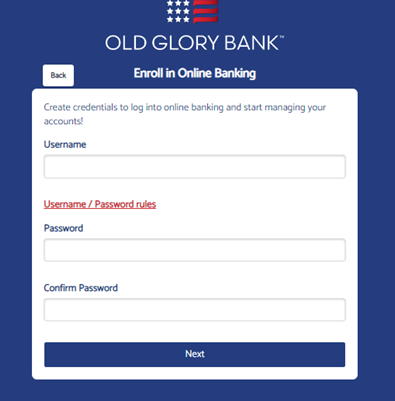 1. The Credentials screen will appear if your account is ready for you to choose your username and password.
Your username must be a minimum of 7 characters.
Your password must be between 5 and 20 characters, and should contain an upper and lowercase letter, a number, and a special character.
Or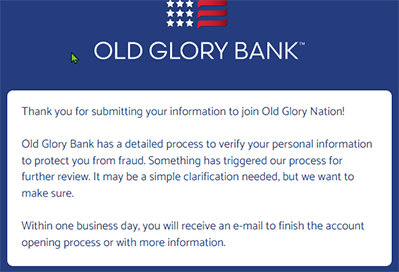 2. If your account needs further review, you will
receive the above message, as your application is forwarded to our team for additional verification.
In most cases, this step is completed quickly. We will email you with the status of your account as soon as possible.


---
Next Steps
Once your account opening is successful, you are just two steps away from Financial Liberty!
---
Old Glory Bank™ and its family of associated trademarks are the property of Old Glory Intellectual Property Holdings, LLC.
Privacy Notice
Mobile Banking App Privacy Policy
Cookies Disclosure
Accessibility
FAQs
Customer Service
Terms And Conditions